When measuring the success of your direct mail campaign, it's important to determine your KPI and ensure your mail piece is designed to help you to track your performance indicators.
Direct mail is cost-effective, can be highly targeted, is easily tracked and helps to boost overall brand awareness.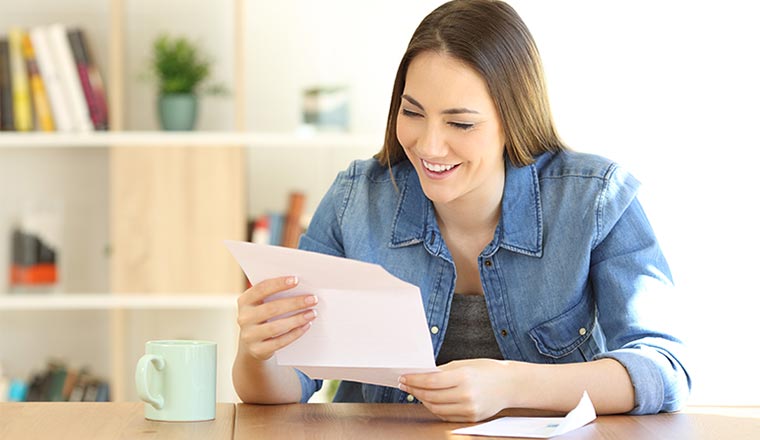 According to the Direct Marketing Association's 2018 Response Rate Report, direct mail sent to an existing customer list delivered a 9% response rate and 5% response for a prospect list. Email Marketing on the other hand shows a 1% response rate for an existing customer email list and 1% for a prospect email list.
Determine Your Direct Mail Performance Indicators
Response Rate
Response rates are the percentage of people who respond to your mail piece. Response rates can be calculated like this:
Response Rate = Responses / Sends
Overall, the DMA found that direct mail's response rates are actually anywhere from 10 to 30 times higher than that of digital.
Cost Per Acquisition (CPA)
According to the DMA, the average CPA for Direct Mail amounts to $26.4 per house and $31.1 per prospect. However, this will vary from industry to industry and depending on the style of your mail piece. To calculate your CPA, you should use this Formula:
Return on Investment (ROI)
ROI is one of the most valuable marketing metrics to utilize because it allows business owners and marketers to measure the success of a campaign quickly and easily.
According to DMA (2018), direct mail's median ROI is of 41%. To calculate your Return on Investment, you should use this formula:
Establish a Direct Mail Tracking Method
In order to calculate your KPIs you need to utilize one or more methods to track your campaign's performance. Some of the most used methods are:
Coupon Codes
Direct mail coupon advertising is the powerful, cost-effective way to grow your customer base, increase sales and drive brand awareness.
About a third of all consumers use coupons on a regular basis, while nearly 40% of consumers are constantly on the lookout for good coupons.
By using coupons, you can track how many customers have redeemed them, compared to how many received your mail piece. If you want, you can even create unique coupon codes, which allow you to know which person used their coupon and how they did it.
QR Codes
You can include a QR code in your direct mail piece that's linked to a unique landing page on your website whenever it's scanned by a client. From there, you can track the number of people who visited this page from your website analytics account to measure the response rates.
QR codes provide a quick and easy way for smart phone users to interact. Since QR codes can be linked to unique URLs, it's easy to analyze traffic patterns.
PURLS
PURLs are personalized web addresses that can take your customer to a unique webpage specific to them.
Using PURLs allows you to track when each URL has been accessed, which gives you information into who has engaged with your offer. In your dashboard or report, you can see when they visited your landing page, how long they stayed, and whether or not they engaged with any of your calls to action.
Want to learn more bout how technology improves your campaign's success, read here.
Business Reply Envelope (BRE)
A business reply envelope is a prepaid reply envelope that is inserted in the original envelope mailing. This means your customers and prospects can fill out the business reply envelope and send it back without paying for postage.
Contact us!
Azure Communications has the experience and expertise to help create your next mailing campaign. Call us at (0)1 531 2695 or email sales@azurecomm.ie