Transactional pieces like bills, invoices and statements are still the most read and opened pieces of mail: 96% of people open and read bills while 92% open and read statements. 
Other examples of transactional mail are:
Renewal Letters and Cycles
Transactional mail can be used to alert customers and members of the need to renew or set up an ongoing direct debit payment for your service or product.
Changes to Terms and Conditions and Customer/Business Agreements
Businesses often need to make alterations to agreement terms and conditions that they have with customers and partners. Transactional direct mail is ideal for this as it provides a physical copy of the new terms.
A research recently revealed that 92% of people believe that hard copy allowed them to better concentrate on the content. Not only that, but another research reported that Direct mail requires 21% less cognitive effort to process than digital media (5.15 vs. 6.37), suggesting that it is both easier to understand and more memorable.
Welcome Packs for New Sign Ups or Customers
Welcome packs can help reinforce a good relationship with a customer or new member. This type of transactional mail can help define expectations, creating a sense of familiarity with your service, products and brand.
Access or Pin Numbers
One of the most often used forms of transactional direct mail is to provide an access or PIN number separately from a card or login details. This adds an additional layer of security to the process.
Benefits of Transactional Mail
Mail has an impact on consumers: 60% of consumers surveyed feel that direct mail helps solidify a brand name in their mind, and people almost always open transactional mail pieces.
Sending bills and statements has more impact in the mail than in email:
People surveyed spend an average of 2 to 3 minutes reading transactional mail and only 15 to 20 seconds reading transactional email.
Once opened, bills and statements stay in a home for an average of 17 days, while emails live only for about 2 seconds.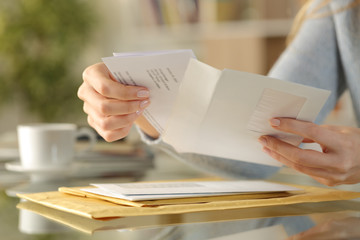 Get more out of your transactional mail
Use technology
With QR Codes and augmented reality (AR) technology, mail pieces can engage customers and lead them to related content.
Use QR Codes or AR to:
Connect customers to promotions or discounts
Direct customers to an app that lets them experience a new product or service virtually
Cross-promote relevant products and services
Transactional mail is generally sent to your existing customers. These people know and trust your business, which allows you to cross-sell and upsell your offerings.
With your mail piece you can:
Highlight the benefits of adding another service or product to their account
Introduce savings offers, like bundled services or time-sensitive discounts
Educate customers on your offerings
Use personalisation
As transactional mail is directed to your current customers, you can use basic information like their names, the services or products that they use, or how long they've been customers, to personalise your message and offers. Using the information that you have about them can help you create personalized messaging and offers.
Market your referral program
People are 90% more likely to trust and buy from a brand recommended by a friend. Use your transactional mail to encourage current customers to bring their friends, offering incentives to each.
Contact us!
Azure Communications has the experience and expertise to help create your next transactional mailing campaign. Call us at (0)1 531 2695 or email sales@azurecomm.ie